Give your home a new design by installing sturdy, high-quality interior shutters! Interior shutters are timeless classics that have a unique and elegant look that can bring out the best in your home's interior. There are many finishes to pick, or you could even design your own color to match whatever interior decorations you may have. There are also plenty of designs that suit any shape your windows may have, including ovals, cut-outs, angles, and arches, among other options. Select your shutters from various materials, like composite, hardwood, or even hybrid materials, depending on how much protection you need against moisture and UV rays.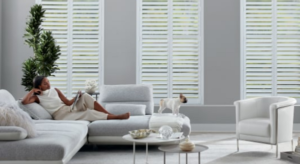 When you're deciding between either real or faux wood, you should consider your climate, the room in which your shutters are installed, and any personal preferences you have. You can select from 3 louver sizes, which can be as large as 4.5 inches, allowing for the largest view-through available.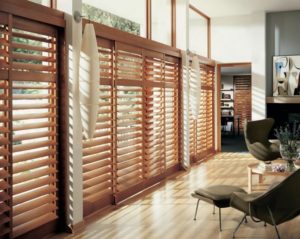 You get all of the privacy you need with shutters that have been beautifully crafted. We have options available in elevated finishes and materials with long-lasting durability, both of which can be designed to conform to the size and shape of whatever windows you have, even specialty shapes.
Heritance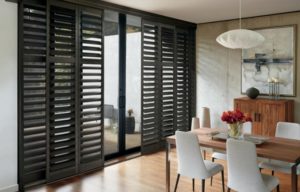 Consider a classic look by choosing our Heritance® Hardwood Shutters. They are crafted with high-quality hardwood, and you can get them in a wide array of colors and finishes. Learn more about Heritance®
Palm Beach
If you want to get that beach-like ambiance, then you should use Polysatin™ or Palm Beach™ shutters. They are created by using Polysatin™ material which is resistant against UV rays, as well as other problems, like cracking, peeling, chipping, fading, and warping. We recommend these to those who live in warmer, more humid areas. Learn more about Palm Beach™
Newstyle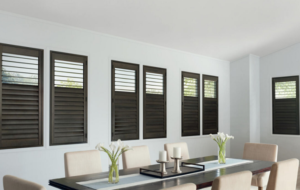 By investing in NewStyle® Hybrid Shutters, you reach a healthy blend of rich-looking wood paired with high durability. These are perfect for any household that is always bustling with play and other activities.
Contact Mike's Flooring and Design Center
Since Mike purchased the business in 1996, he and his team have helped families like yours throughout Delmarva, Sussex County, DE, and Ocean City, MD. Mike continues to be involved in the day-to-day operations, ensuring the vision you share is the one we help deliver.
Over the years, we have established relationships with local manufacturers, such as Adura, COREtec, and Bruce, who we trust to deliver superior work. Our team will continue to be your point of contact through the entire process to be sure you are completely satisfied.
We also provide "SHOP AT HOME" service.  We will bring samples directly to your home, or should you already know what products you want, we can safely provide you with a "FREE ESTIMATE."   This allows you the flexibility of not having to be at home for us to do an estimate, nor the installation.  All we will need to know is what areas in your home we would be doing and how we can gain access (hidden key, lock box, coded entry, realtor, neighbor, etc.).  This is tailored around the homeowner who needs to get their unit ready for the season or simply enhancing their home but does not want to leave their home or can't make it to town (Ocean City, Berlin, Salisbury, Worcester / Wicomico County Maryland & Sussex County Delaware).
This service is not new to us.  We have already been providing this service for our customers for the past 26 years.  With the current situation at hand, we can continue to provide you with your Floor Covering and/or Window Treatment & Design needs along with the "AWESOME SERVICE YOU DESERVE, ALONG WITH PROFESSIONAL, QUALITY INSTALLATIONS."
Please feel free to contact us at 800-298-9470, or email us at mike@mikesflooringanddesigncenter.com and we will be more than happy to assist you with your project.  Have a wonderful day and STAY HEALTHY!